Enjoy full episodes of favorite Kapuso shows from GMA Network on your TV with the GMA.tv add-on for Kodi!
About GMA.tv add-on
GMA.tv add-on is a video plugin for Kodi that allows you to browse and watch full episodes from GMA Network. This doesn't required you to create an account as official videos are freely accessible on Youtube (ℹ access to some video content may vary according to your country).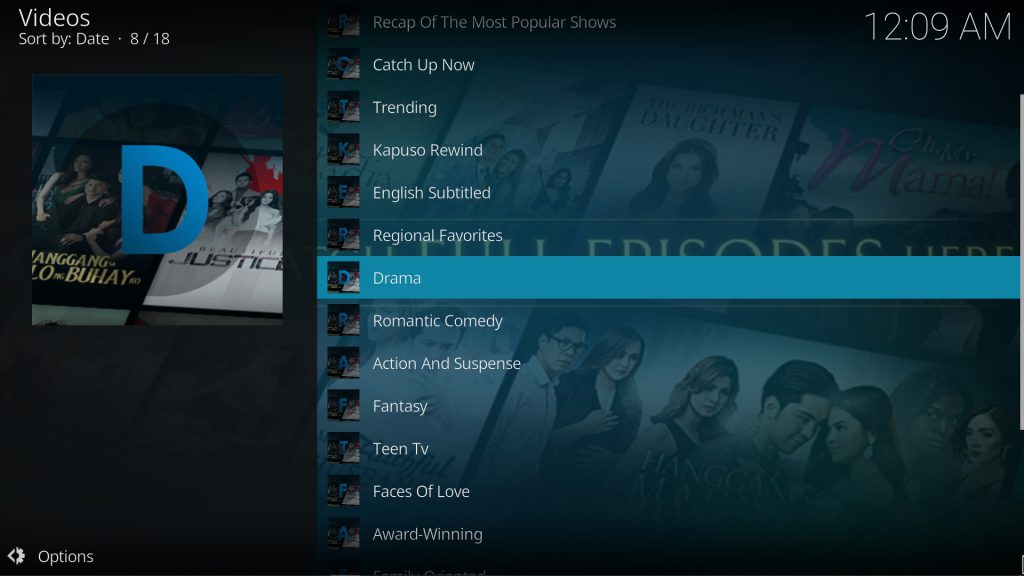 Easily browse by categories, shows and episodes list
Search your shows, episodes by category, title
Pin your favorite show's episodes into your Kodi library
Open-source code
GMA.tv add-on for Kodi is an open-source project and can be found in Github.
How to install?
Follow our installation guide.
See also our Q&A section for more info.
Requirements
These are the minimum requirements to use the GMA.tv add-on for Kodi:
Disclaimer
GMA.tv add-on for Kodi is not part of official apps proposed by GMA Network and Cmik is not related nor affiliated by any kind to GMA Network.
GMA Network does not provide support for this add-on. See Support section below for more information.
GMA.tv add-on does not provide "Pirated content" as it only allows to access GMA Network content.
GMA.tv add-on communicates with GMA Network website to retrieve contents (menus, descriptions, images, videos). It also downloads shows and episodes databases from cmik's repo (on installation only) to improve the user experience.
Cmik kindly provides the add-on for free and for non-commercial purposes, downloadable directly from Cmik's repo. The add-on is provided without warranties of any kind, whether express or implied, including, but not limited to, implied warranties of merchantability, fitness for a particular purpose, non-infringement or course of performance.
Support
As this add-on is not affiliated to GMA Network but only use GMA Network website services, you can only find support by asking Cmik or the community through the following channels:
Therefore, you can solicitate GMA Network support only if you have issues with their websites and not related at all to the GMA.tv add-on for Kodi.